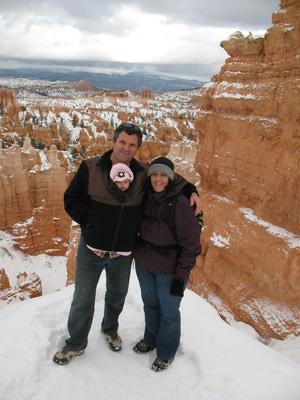 Bryce CanyonGreetings from Guam!
After our last update we had a busy month selling things, making our own moving arrangements and packing up our house. We were also blessed to spend quality time with family for the week of Thanksgiving in several states. We first flew out to Las Vegas where my parents picked us up and we drove up to meet family at a cabin near Zion National Park. We had a wonderful time in the snow and even bundled up to take Bethany snow hiking in Bryce Canyon on one of the days. The second half of our Thanksgiving week was spent at my grandparents' house in Tennessee with my cousins and their families.
After Thanksgiving we were very blessed to have lots of help from many friends and all four of our parents during the last week before we moved to Guam. It was a real adventure to pack the majority of our house in four days and then load everything into a 40ft shipping container in about 2 hours on a Friday afternoon. Once the boxes and furniture were loaded we spent another 2 hours securing our vehicle in the other half of the container. We then had a full day with Bethany's baby dedication and a farewell party on Sabbath before flying out early Sunday morning.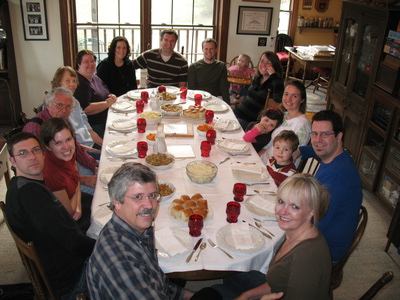 Thanksgiving in TennesseeWe checked in for our flights in Atlanta before dawn with three baby items, three 50lb bags and one cooler full of frozen fruit with dry ice.
The 21 hour trip to Guam went smoothly with stops in Houston and Honolulu and Bethany did very well on the flights. Upon arrival we were met by several of my new coworkers and taken to our temporary apartment where we put the fruit in the freezer and then headed to bed for a good nights sleep. In the morning I started work and spent the next couple of weeks getting up to speed so that I could cover the office while my new boss left to visit family for Christmas. We had a nice holiday season in Guam reconnecting with old friends from when I lived here before. I also enjoyed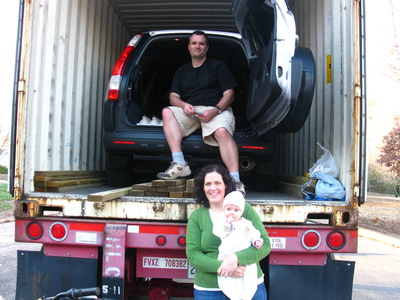 Ready to Close the Doorstaking Brenda to some of my favorite hiking and snorkeling spots. Another highlight of the month was a fun ride on a friend's boat where we got to see Dolphins the day after Christmas.
We also spent time looking at housing options in December. Most of the places near my work in our price range were apartments, and many of them were quite small. After seeing many places we were blessed to hear about a nice single level duplex in a former Navy officer housing area with a large yard and a view of the ocean in the distance. The area was returned to the Guam Government by the Navy and then it was eventually returned to the original land owners, some of whom rent their places out. The neighborhood is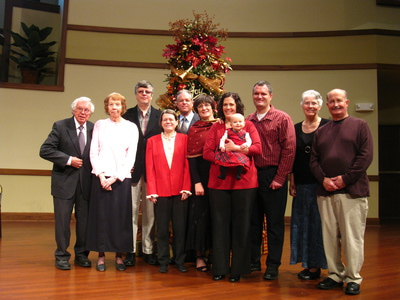 Bethany's Baby Dedicationnear the airport which also used to include a naval air station that has now closed. We decided about the place on the first Wednesday in January and then unloaded our container the next evening, just in time to avoid any extra charges from the shipping company.
I was blessed to find a good deal on some used kiteboarding gear on Craigslist not long after we arrived and in January I got a chance to try it out. I hadn't been kiteboarding since I left Guam back in 2004, but have really enjoyed getting back into it again. We also spent time in January getting settled into our new home and visited several more beaches on the weekends.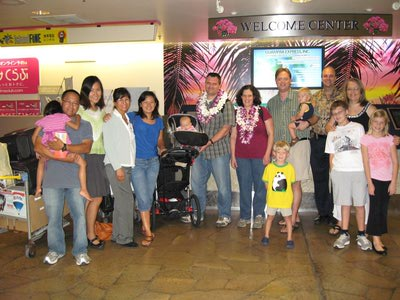 Guam ArrivalNear the end of the month we traveled to Cambodia for some time with Brenda's family. We had made arrangements to see them after my boss got back since we couldn't spend Christmas together. Upon arrival it was fascinating to see how much Cambodia has changed since I left in 2003. Many of the old dirt roads are now paved so I didn't even recognize some of the streets. In the morning after staying the night with friends in Phnom Penh we caught a couple of motorbike taxis to the nearest fruit market. We bought lots of wonderful tropical fruit and then visited the ADRA office where I used to work. After catching up with friends at the office we packed our bags and then took a tuk-tuk ride to a bus station where we boarded a bus for the 4 hour trip to the beach town of Kom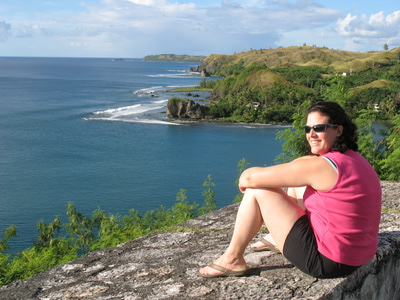 Fort Soledadpong Som (Sihanoukville). Brenda's parents, her brother and his family had been in Kompong Som for a retreat and we were looking forward to seeing them. After a quick stop to get Vietnam visas at the consulate we joined them Friday afternoon just in time for a relaxing Sabbath together.
On Sunday morning we loaded up our group of six adults and three kids in a hired van and headed to the Vietnam border with an ultimate destination of Phu Quoc Island. It took quite a bit of calling and research, but we had made a reservation at a beach front "resort". Internet reviews were mixed, so we weren't sure what we would find upon arrival, but it was the busy season of Chinese New Year so there weren't any other affordable options. Our first step though,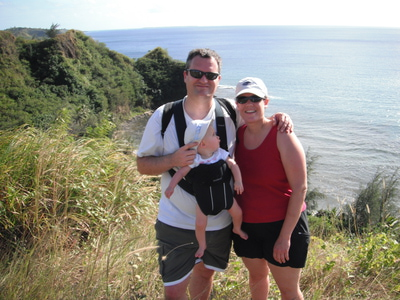 Hiking to "Andrew Falls" was to travel 4 hours by van to the rural border crossing at Ha Tien. Upon arrival at the border we got our passports stamped at the Cambodia departure checkpoint and then walked with our luggage a quarter mile or so to the Vietnamese checkpoint. Since crossing with a vehicle is more difficult, our van driver had arranged for another van to pick us up on the Vietnamese side of the border. Our van driver also helped ferry some of our bags through the no man's land area. Although it was disconcerting to see our bags disappear ahead of us into Vietnam, everything worked out fine. Once we made it to the Vietnamese checkpoint we had to get our passports stamped again and then we loaded up in the new van for the short ride to a travel agency in town whe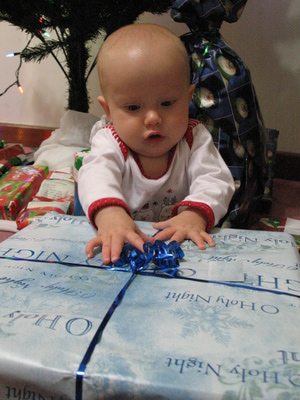 Bethany Opening a Giftre we picked up our ferry tickets. We then headed to the pier and unloaded our bags to wait for the boat. By this time we were getting hungry and decided to see what we could find at the local shops near the pier. There were only a couple of small food stalls, but we were able to get some soup and rice. I also found some local frozen yogurt which I recognized from a previous trip to Vietnam, and it really hit the spot in the hot and muggy weather. After waiting for around an hour we boarded the speed boat ferry and found our seats for the 3 hour ride to Phu Quoc Island. On the ferry we purchased tickets for a van to take us from the ferry landing to any hotel of our choice. Upon arrival we had another quarter mile walk down a long pier with all our bags. Once we reached the shore we were glad to find a van waiting for us. The drive to our hotel was about 20 minutes and before checking in a couple of us went to see the rooms. To our relief they were fairly clean and in good shape for the price with working AC, so we checked in and got settled. We then enjoyed watching the sun sink into the ocean as we walked down the beach to a Mexican restaurant owned by Australians for supper. The setting was perfect with tables set up right in the sand a few feet from the water. The food was not bad, considering the location and the icy fruit drinks were excellent, especially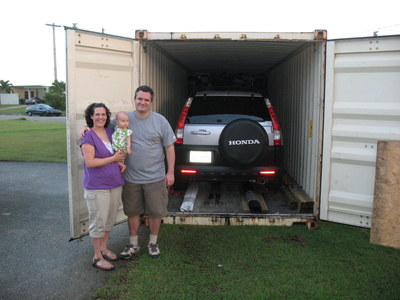 Unloading in Guamat the end of a long day of travel.
We pretty much just relaxed at the pool and beach for the rest of the week with occasional trips into town on a rented scooter. A simple breakfast was included at our hotel and for other meals we tried nearby English, Vietnamese, Italian and Indian restaurants. The Indian restaurant was really good, and we also found some tasty pumpkin soup at one of the beach front Vietnamese places. Brenda and I also took a couple of outings to explore the island by scooter. We thought it was somewhat funny that we traveled so long and far to hang out on an island about the same size as Guam with similar weather. Of course the culture and environment were completely different though, and most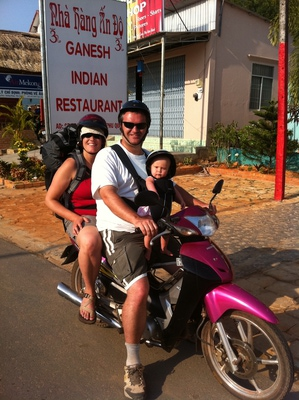 Scooter in Vietnamimportantly we got to spend time with family. On our scooter we drove along deserted beaches, through dense jungles and small fishing towns. We wandered through a small fishing village and almost everyone was playing card games as part of the Chinese New Year celebration. We also saw several groups doing dragon dances for local businesses, both in Vietnam and again later on in Cambodia.
Around midweek we decided to purchase our return ferry tickets, but were surprised to learn that they were all sold out due to the holiday. We asked about different days but they were sold out too. We thought about checking on flights, but weren't sure what to do since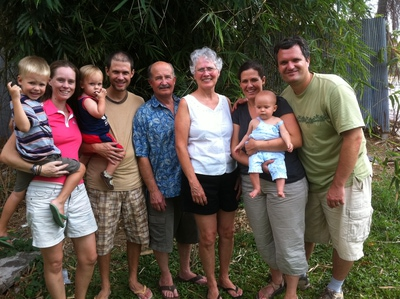 Brenda's Family in Cambodiamost of us had international connections to catch back in Phnom Penh in a few days. One travel agent offered to sell us tickets to sit in the aisle on the ferry, but then we tried a third agency and they were able to locate tickets for us on the sold out boat, much to our relief. In hindsight we should have purchased roundtrip tickets in the first place, but it worked out just fine in the end. After a week on Phu Quoc island we packed our bags and spent a day on the road following the same route in reverse back to Kompong Som in Cambodia. We had to wait a bit longer at the border crossing this time and there were a few "extra charges" from the Cambodian officials which we declined and were ultimately able to avoid.
After an overnight stay in Kompong Som we headed back to Phnom Penh where we got up early the next morning to watch the super bowl. Unfortunately our hotel didn't have the game on, so we ended up watching via a Skype call to my parents in California. We could hear most of the sound and saw some of the video. Unfortunately the commercials didn't play very well over Skype, but we had fun and enjoyed eating our super bowl snack foods. After the game we did some shopping and had our last tropical fruit feast before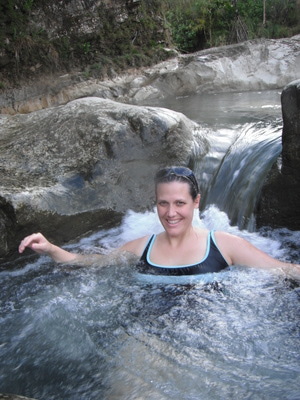 Tarzan Swim Holeheading to the airport for our overnight flights back to Guam.
Back in Guam we started getting into more of a routine in February and March with beaches and hiking on the weekends and occasional kiteboarding outings. We also had an evening camp fire with friends and learned that it's just not the same making smores in 80 degree weather. I was able to put my snow cone machine to good use at the camp fire though, so that was fun. After visiting several of the eight Adventist churches on Guam we decided to join the group in Agat. At 30 minutes away it is one of the further churches from our house, but there is a good Sabbath School with several kids the same age as Bethany. I also attended the Agat church when I lived in Guam before, so have some good friends who are still there.
In April we used a voucher from a friend for a night "away" at the Sheraton hotel which is within sight of our house. Even though it is so close, it is a world away with an awesome ocean view infinity pool and a buffet breakfast. It was very relaxing to have a mini vacation without the expense or trouble of flying anywhere. Later in the month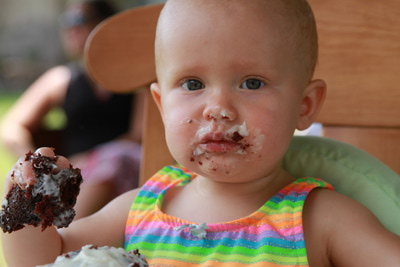 Bethany's Birthdaywe hosted a party to celebrate Bethany's first birthday.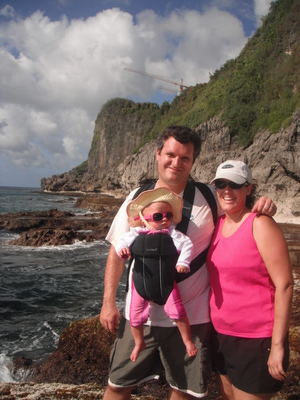 Hospital Point Reef Hike It was a lot of work, but we were glad to have so many friends to invite after just a few short months on the island. We had pizza buns, salads, frozen lemonade and two kinds of cake for around 30-40 people in our back yard. We also had croquet and Easter activities for the kids.
Extra low tides come our way in the months of May & June so we took advantage of the exposed reefs for several hikes in normally inaccessible areas. These are fun hikes as you can often see exposed coral, sea urchins and other marine life. Sometimes you can even find an eel or an octopus along with colorful fish in the tide pools. At work we launched a new electronic medical records software application at the beginning of May after much preparation. The transition went pretty well, but we had some busy weeks before and after the change. In June we helped with a Vacation Bible School program at our church. Brenda gave a short talk about a different country each night while I organized an outdoor game from the feat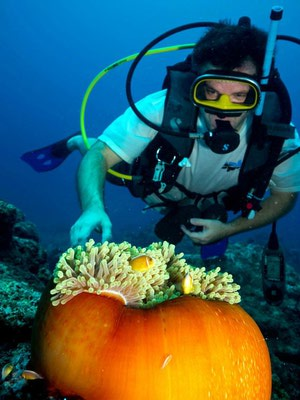 Scuba Diving in Saipanured country each night. We had around 30-40 kids in attendance and they really seemed to have a good time.
For the Fourth of July weekend we took a trip to the nearby island of Saipan. It was nice to get away for a bit and we really enjoyed exploring the historic parks and viewpoints around the island. I also got to go scuba diving with a group of friends from Guam who had also planned a Saipan trip at the same time as us. We made it back to Guam in time to watch the fireworks. The bigger display and overall larger celebrations were reserved for another holiday though,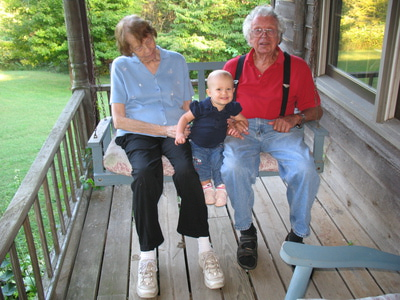 Great Grandparents in TennesseeLiberation Day, on July 21. This holiday commemorating the American recapture of the island of Guam from the Japanese is celebrated with a big parade followed by concerts and fireworks in the evening.
August was fairly quiet, although we did get out on a hike to Shark's Hole for some snorkeling. Brenda also surprised me with a small pool party at the Sheraton for my birthday.
In September my parents and sister came for a visit and we stayed busy with lots of activities including an island tour, kiteboarding one afternoon, snorkeling at Ritidian, a submarine ride, and a visit to Hamamoto Fruit World. Just a couple weeks after they left we started our annual leave trip. We ended up taking it earlier than originally planned because we were pregnant again and needed to be done traveling with plenty of time before the baby was due. Our first stop was Tennessee where we spent time with my grandparents and then with friends in the Chattanooga area. I also attended a conference in Nashville for part of the time.
Our next stop was to visit Brenda's cousin in Virginia while I attended a VMware class for a week. One evening after class we spent some time walking around Co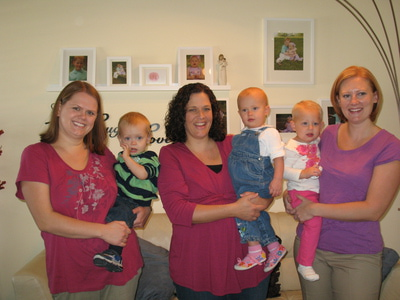 Good Friends at our Surprise Baby Shower in Tennesseelonial Williamsburg. In the old part of town they have restored most of the buildings and have lots of re-enactors dressed in period attire. From Virginia we headed north to the Maryland area for some time with more friends and family, including my parents who were in the process of moving from California to Maryland at the time. While in the DC area we spent some time visiting the Capital and the monuments. We especially enjoyed seeing the brand new Martin Luther King Jr. memorial for the first time. We also went to the National Zoo where we got rained on but still had a good time. I enjoyed re-visiting some of my old stomping grounds and it was fun to see so many good friends and family again.
From Maryland we flew to Spokane, Washington wher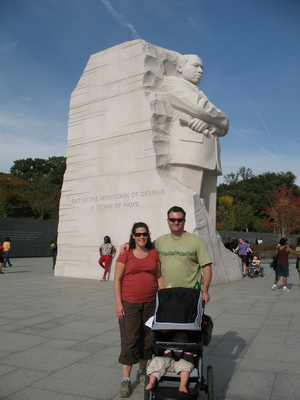 Martin Luther King Jr. Memoriale we spent the night with my cousin and her family. The next morning Brenda's parents picked us up and we took the long way home to Wenatchee with a stop at the family farm. It was really special to see where Brenda spent some of her childhood years and to hear stories of her mom's growing up years on the same farm. After a short stay in Wenatchee we were off again, this time headed to Oregon for some time with my mom's family near Portland. We took the scenic route over Steven's Pass through the mountains and were blessed with blue skies and fall colors at their peak along the way. My parents, sister and grandma flew up from California and we all converged on my aunt's place for some quality time together. For the weekend we attended a Quiet Hour retreat with both sets of parents at Skamania Lodge on the Columbia River. It was a weekend filled with good food, spiritual blessings and wonderful scenery. For our trip back to Wenatchee from Oregon we took another scenic route, this time following a river up into the mountains and then turning north to pass by Mt. St. Helens. We then took a side trip to Mt. Rainier National Park where we were excited to see a little snow on the ground in the shade. We also got to do some short hikes and even picked a few wild huckleberries before watching the sun set over the valley. It made for very long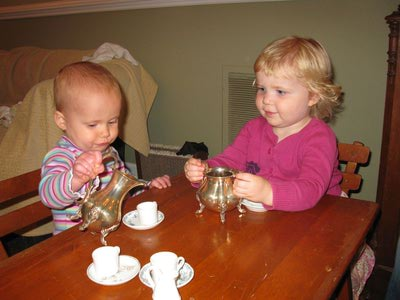 Tea for Twoday in the car, but the scenery and cold weather were worth it. Back in Wenatchee we spent time with Brenda's parents and her brother and his family who were in the process of moving back to the US from Cambodia. It was a real blessing that the timing worked out for us to get together just as they were arriving and before we had to travel back to Guam. While in the Wenatchee area we also got to see all of Brenda's cousins, feasted on fresh picked apples and spent more time in the mountains seeing the colorful leaves.
On our way back to Guam we stopped for a few days on the big island of Hawaii. It really helped the trip to seem shorter and it was also nice to spend a few days on our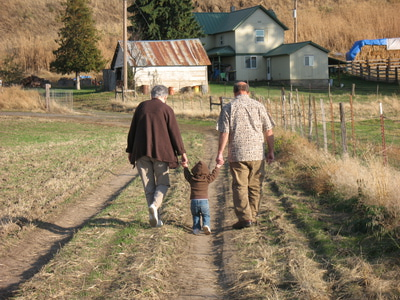 On the Farmown before I went back to work in Guam. We landed in Kona on a Thursday afternoon, picked up our rental car, got some supper and groceries in town and then headed south to a low cost hotel where we had reserved a room for the first night. The Manago Hotel was rustic, but had plenty of character and a great view of the ocean for a bargain price.
Friday morning we enjoyed an affordable breakfast at our hotel before hitting the road. Our first sightseeing stop was at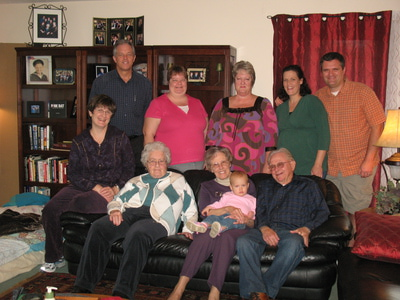 Family in OregonKealakekua Bay where we caught a glimpse of the Captain Cook monument across the water from the parking area. The monument marks the spot where Captain Cook was killed in a dispute with the native islanders. Next we stopped at a local farm where we sampled a large selection of tropical fruits as well as Macadamia nuts and some baked goods. From there we drove a bit further south to the Pu`uhonua o Honaunau National Historical Park. This place of refuge has been restored and maintained to provide a glimpse back in time of what life was like for the early Hawaiians. After a peaceful picnic lunch with a view of the ocean, we stopped at another nearby park where I went snorkeling for a few minutes. We then continued our drive south as it was getting l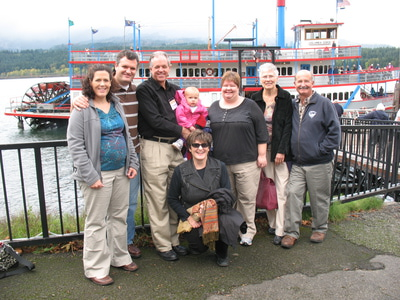 Columbia River Gorge Explorerate and we had some distance to cover. We did make time to stop at a couple of fruit stands where we were delighted to find 3 varieties of local dragon fruit. We rounded the southern end of the island and started heading north on the eastern side as darkness fell. Another hour or so on the road brought us to our vacation rental in a quiet neighborhood in the town of Mountain View, just a few miles from the entrance to Volcanoes National Park. I found the place online so we were glad to find that it was very comfortable and in a peaceful setting.
Sabbath morning we headed to Volcanoes National Park and arrived just in time for an outdoor hula performance. It rained on us a little, but when the clouds cleared we had a view of the steaming caldera behind us as we watched the traditional Hawaiian performance. After the hula show we browsed the museum and visitors center before driving to a number of overlooks. In

Mt. Rainierthe higher elevation areas near the visitor's center the weather was fairly cool and rainy, but we followed one of the park roads down to the coast and watched the temperature climb and the clouds clear as we dropped out of the rainforest. By the time we reached the inactive coastal lava flows at the end of the road it was warm and sunny with blue skies. We spent some time walking and exploring along the coast and then headed back into the clouds for another short walk through a long dormant lava tube tunnel before dark. Our last stop was closer to the active caldera where we had a good night time view of the red glow before returning to our cabin for the night.
On Sunday we took our time getting up and then headed in to the town of Hilo. We stopped at a farmers market on the way and purchased some ripe papaya. From what we re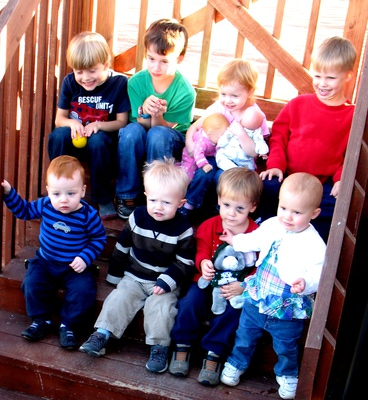 Second Cousinsad and heard from locals the weather in Hilo is typically rainy, but we had some blue skies and nice ocean views from the waterfront parks. Next we checked out another farmers market where we found some longan fruit, which we had both learned to love in Southeast Asia. We then decided to take the saddle road towards the center of the island and into higher elevations in search of cooler weather and mountain views. Within less than an hour we drove from sea level to the Mauna Kea Visitor Information Station at an elevation of 9,000 feet. We got our cool weather wish so bundled up with our jackets and hats to stay warm for our picnic lunch. After we finished eating we browsed the gift shop and watched part of a video before heading back down to a black sand beach near Hilo to watch the sunset.
We got up before dawn on Monday morning, loaded the car and headed to the airport for a helicopter sightseeing tour we had booked as a special treat for Brenda's birthday. Unfortunately, they cancelled ou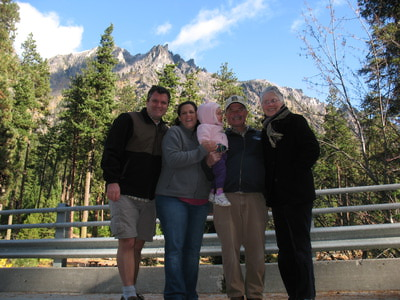 Icicle Creekr flight due to bad weather so we didn't get to go on the tour after all. We were flying back to Guam a few hours later, but we spent the rest of our morning touring the Mauna Loa macadamia nut factory and sampling all the different types of macadamia nuts they produce. We also stopped at a touristy store for a few last minute souvenirs. Our short flight to Honolulu was smooth with decent views of several islands along the way. Upon arrival in the airport we learned that we could not take produce into the international terminal of the airport. We had packed some fruit to eat on the plane, so stopped and had a quick feast of pomelo, longan, dragon fruit, papaya and bananas right there in the terminal before going through the checkpoint to find our c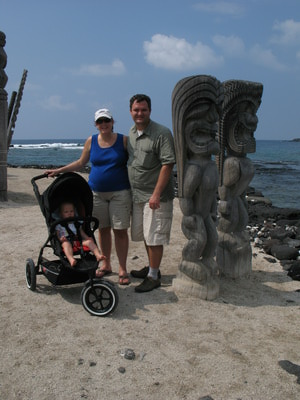 Place of Refugeonnecting flight to Guam.
Back in Guam we decided to go on a dolphin cruise and visit the fish eye underwater observatory for Brenda's birthday since we had missed out on the helicopter ride in Hawaii. We had fun on the boat and in addition to the dolphins we also saw a hammerhead shark swim by, which is very unusual. We also enjoyed the underwater observatory where you can watch fish and see the reef in a large cylindrical room about 30 feet under the water.
In December our friend Richard came for a visit so I took him on hikes to Andrew Falls and Talofofo Caves. He spent most of his time during the week SCUBA diving and seemed to have a good time. While he was here we stayed up late one night to watch a lunar eclipse and then another night he was kind enough to watch Bethany while we went on a date night to an Opera fund raiser. To help get in the Christmas mood we took Bethany on a Christmas train ride and watched the fake snow flakes fluttering to the ground at the mall. We also visited

Yellow Dragon Fruit several of the fancy hotel lobbies to see the decorations a couple of nights and then went to an amazing display of figurines and decorations at the local Friary another day. We had a couple of church Christmas programs and then spent the holiday weekend cooking and eating lots of good food with friends.
On the last Thursday of the year Brenda started having contractions and we wondered if the baby was really coming yet or not. The contractions continued off and on through Friday and I stayed home from work to help with Bethany. In the evening we attended a special end of year agape feast communion program together. Sabbath morning we went to church and potluck as usual and then attended our church game night in the evening. Sunday the contractions started to get more intense but I took Bethany to a nearby New Years pool party and gift swap that we had organized in the afternoon. About the time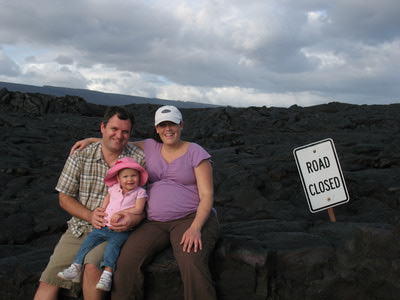 Dormant Lava Flowwe started eating at the party Brenda called and we decided that I should head home. When I got home I loaded up the car and then we dropped off Bethany at a friend's house. By now the contractions were about 2 minutes apart and when we arrived at the birthing center Brenda was 7-8cm dilated. After they checked her we learned that the one doctor who could cover our VBAC delivery at the birthing center was out of cell phone coverage so we would have to transfer to the hospital. We had no other choice so in between contractions we walked back out to the car and then drove to the hospital. By the time we got up to the delivery ward and they checked her again she was at 10cm and a lip and starting to have the urge to push.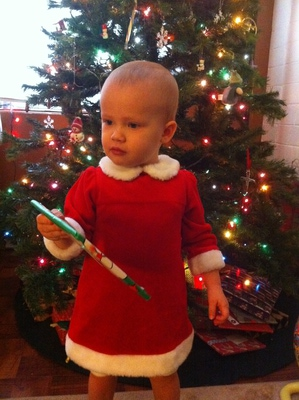 SantaThey quickly transferred us into a delivery room and got everything ready. During the transfer Brenda's water broke and when we got to the new room she was at 10cm and started pushing shortly as soon as we were situated. 40 minutes later Abigail Jean Porter was born at 8:53pm on 1/1/2012, after three days of labor but only about an hour after we arrived at the hospital. She weighed 6lbs and 13 ounces and was just perfect. Since we were in the hospital setting and Abigail had some minor difficulty breathing at first, she was taken to the nursery for monitoring while we finished up and transferred to a recovery room. After an hour and half in recovery we had our final transfer to the maternity ward and then waited a couple more hours for baby Abigail to join us in our room. Both baby and mom were cleared to go home the next evening, but before that I left the hospital in the afternoon to pick up Brenda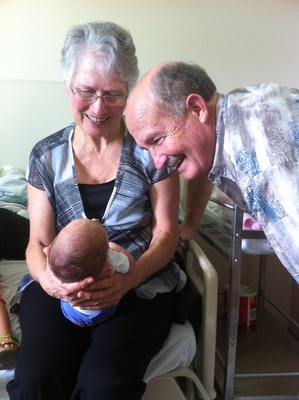 Meeting Abigail's parents from the airport. We had purchased tickets for them months before and of course had no idea that the timing would work out so well. Once I got them from the airport we picked up Bethany and then everyone got to meet Abigail in the hospital.
We spent the first two weeks of January mainly getting to know baby Abigail, although we showed Brenda's parents around Guam a bit too. While they were here we went to several beaches, Chamorro Village and of course took them on a driving tour around the island. On Abigail's one week birthday we hosted a baby shower that had been organized by friends, and then on the following Friday we enjoyed vespers and a camp fire on the beach. It was really nice to have all the help from Brenda's parents for two weeks, and once they left we really slowed down for a while.
This month we have gradually started doing more activities as we are getting into a routine with our two girls. Brenda's recovery has been progressing well and Abigail is a good baby, wh

Family of Fourich really helps make things easier. We are so blessed that she has been sleeping through the night for the past couple of weeks now. She is also a good eater and has been growing quickly and getting chubby. Bethany loves to hold her baby sister and always asks where her sister is when she wakes up in the morning.
Overall we are enjoying life here in Guam. We are blessed with a great church family, lots of new friends and a beautiful place to live. My work has been challenging with more than enough to do, including recruiting new employees most recently.
As usual we have a lot of pictures on http://gallery.porterupdates.com although I'm still working on getting them all uploaded.
Bye for now,
Andrew